For the first time ever, demand for the annual BEX Forecast event was so high we had to plan two separate presentations. Now that the first is in the books, we wanted to give our readers a glimpse into what our research shows for the Arizona construction landscape.
On Weds., Jan. 25, BEX Founder and President Rebekah Morris and DATABEX Manager Lya Parrish summarized construction activity across all the sectors we track in a whirlwind two-hour presentation before a capacity crowd at the Arizona Heritage Center. Based on current trends, the duo also gave their predictions as to what will happen in terms of volume for the year to come.
You will have to wait until next Friday's issue for a full recap. After all, we don't want to spoil the surprises for those attending the second presentation on Feb. 1. We do, however, want to give you a quick peek at some of the more interesting findings our culling, curating and scrubbing of 12 months of operational data revealed.
The Arizona Construction Gold Rush
Even with all the market headwinds from supply chain constraints, material cost increases, labor shortages, inflation, interest rate hikes and capital market constrictions, Arizona construction had a banner year, hitting $22.4B in 2022, a 24% year-over-year increase in market activity.
Because some sectors were much more active than others, the number of firms launching, designing or building projects varied. Some counts stayed the same; some contracted or consolidated. Like bees to flowers, however, those market sectors that were in full bloom drew a massive increase in participants, with new players showing up as owners, design firms and general contractors for projects across the state.
The following table will give you the at-a-glance has to how many players are making their mark in Arizona in 2023.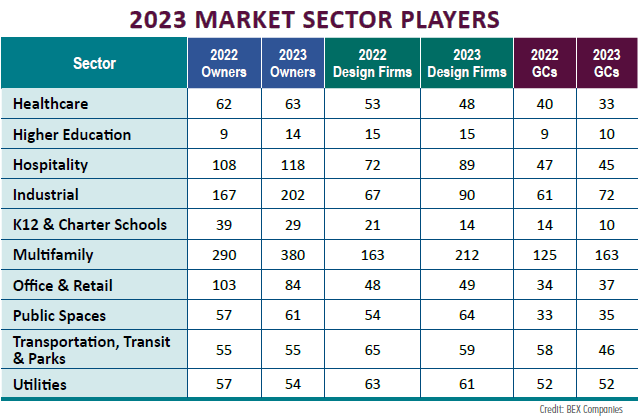 Take a look at both Industrial and Multifamily. It's no surprise that pretty much anyone and everyone wanted to get into those sectors in Arizona over the past two years, but those numbers are just staggering when you stop to think that those are all individual companies working on individual projects.
They were a veritable gold rush, drawing new firms in like prospectors hoping to strike their own mother lodes in the burgeoning desert.
That's all we're going to tease with you with this week, though. To find out who's doing what where, you'll have to wait for next Friday's issue.
Even better, come see for yourself. Tickets are still available for the Weds., Feb. 1 presentation.